General Settings
Keep in mind that the global settings are only available for Jira admins so if you're a user and want to customise the Epic Sum Up global settings, please refer to your Jira admin.
Summary Panel
First, ensure all issue types you wish to configure are added to the "Issue types with Summary Panel"

1. Set Issue Types as Containers or define JQL
Under the General Settings tab, you will find the container issue types menu–here you can set which types of issues you want to use as containers.

An additional option is the JQL filter–you will find the settings bar for this below the issue types menu. One example would be:
statusCategory != Done

2. Add container link to the Screens
To add a container link, navigate to issues, then within a Jira issue screen click on 'Add custom field' button in the upper right corner. In the pop-up menu, you will find an option to add a container link, this will allow you to add the Jira issues to containers.
3. Activate container-in-container functionality
With this activated you can stack multiple containers for more flexible hierarchies.

Improved Hierarchy List
If this functionality is activated the Issues in epic / Portfolio issue panel will be replaced with a hierarchy panel. This hierarchy panel works like the issues in container list.

Permissions
Admins can also limit the access to the Summary Panel and Time Sheet.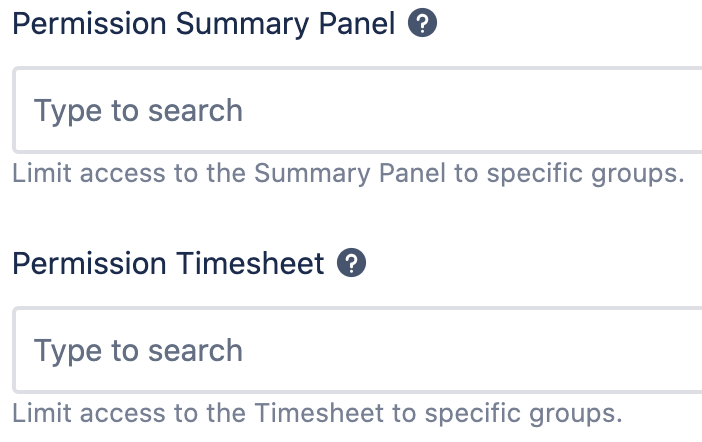 Collect anonymous usage data
To ensure the quality of our product we collect anonymous usage data. You can activate / deactivate this functionality at any time.
If the global usage data collection is disabled, it will be deactivated automatically.
For more information you can have a look at this page.
Summary Panel
Please note that each level of configuration will override the previous ones.
The hierarchy of the Summary Panel configuration is as follows:
Summary Panel global settings

Summary Panel global settings per issue type(s)
Now that you understand how all the configurations on Epic Sum Up work, you can begin customizing your Epic Sum Up Summary Panels to the needs of your business.
1. Global Settings
Admins can configure Epic Sum Up summary panels to show different metrics, depending on the company requirements and preferences. Once these are configured, these will be used as your standard configurations for Summary pPnels. You can also customise Summary Panel configuration on a local project basis, which you can learn more about here.

2. Global Settings per issue type(s)
Provided that you have added all the issue types to the general settings you can customize the Summary Panel global settings for each issue type, individually.
There are no limitations to how many Summary Panels can be configured. Admins can select the issue types to display to the Summary Panels.
All configurations at this level will override the Global Summary Panel Configuration.
For configuration options of progress bars, you can have a look at this page.

Custom Fields
Progress field
Define the value the "(Epic Sum Up) Progress" field displays. The configuration made here is overwritten by the custom field configuration made directly at the custom field.
Custom sum fields
Define which value is displayed in the Epic Sum Up allocation field. For more information on allocation fields, have a look at this page.